JOIN ROOT TO RISE
Online System for Loving Life
Root into a balanced foundation, get unstuck from anything holding you back, and rise to your fullest potential with this two-part online course designed to help you love life!
Root-to-Rise is a two-part online training program for loving life. Created by Glow Living Founder Chandra Lynn, M.B.A., it is designed to give you an effective framework for transforming your life. It gives you tools to balance your five core value areas referred to as your "Life Root System", including health, relationships, career, family and friends. You will feel the joy that comes from progressing in your personal life and career. You'll learn how to clear personal obstacles, navigate emotions gracefully, connect to your truest authenticity, and rise to your highest potential.
The Framework
The Root to Rise system is a perfectly-aligned framework designed to help you strengthen and deepen the roots that provide you security, and rise to connect with your higher purpose so that you can enjoy a meaningful life of creativity, freedom, and fulfillment!

You'll learn:
How you shape the quality of your life by serving your needs in healthy ways.
How to create a strong and stable foundation to start loving life despite external challenges.
How to get unstuck from anything blocking you from living a life of balance and meaning

.

How to rise to meet your higher purpose and experience a deeply fulfilling day-to-day life.
You'll Get:
Access to videos, written materials, and worksheets to learn new life skills and apply them directly to your life for immediate impact.
Inclusion in a private Facebook group with other Root to Risers for on-going community support and insights.
Invitations to periodic live online events and webinars.
One 50-minute private coaching session with Chandra Lynn to help you in a particular area of your choosing.
Ready to start your RISE?
Create a balanced foundation for your life and get unstuck from anything holding you back from loving life!
Part 1 – ROOTS

: Root down and evaluate the health of your Life Root System, including your health, career, family, romantic partnerships, and friendships, for insights about what's driving your life decisions and quality of life. From there, you will balance your roots for a strong foundation to rise from.
Connect with your higher purpose and increase personal fulfillment to live your legacy and love life!
Part 2 – RISE

:
RISE will help you tap into your deepest passions, nurture healthy habits and relationships, face fears of change, and take on your bucket list life you've always dreamed of.
It's time to give yourself the love that you deserve. Sign up to start true life transformation and reach your higher purpose. You're meant to love life.

"It was profound. This is really powerful work! There's so much juicy information in this that allows us to really understand where we're putting energy in our lives, where we have developed roots, and where we have blockages. The coursework allows us to dig in and see where these blockages are stemming from, and how we can address them to rise to our greatest potential."
– Maria Poole, National Director of Training at Topix Pharmaceuticals
What were you going to be when you grew up? What vision did you have for your life? Has that vision come true, or are you unsatisfied with the way things have worked out so far?
Even if you've achieved a lot, it's possible to feel unfulfilled when the childhood dreams that promised lifelong happiness seem out of reach, and time seems like it's narrowing down the possibility of ever making it happen.
Something has blocked you from manifesting your dreams. Was it a consequence of making difficult decisions, such as choosing to raise a family instead of pursuing a career, or working for a company instead of starting your own business? Or was it something more subtle like not believing you're worthy or good enough to reach your dreams?
Whatever it is, it's not too late to create a life you love. Imagine that nothing is missing from your life and everything is perfect just as it is. That you are exactly where you want to be, and living out your bucket list instead of worrying about time constraints and putting it off into the future.
As someone who got an MBA at 24, worked for notable companies and spent over 20 years running a successful marketing business, I know what dissatisfaction feels like despite all of my effort and achievements. It wasn't until I went back to my roots and examined the strength of my foundation that I discovered the key to my "not enough" syndrome.
The process unlocked my inner wisdom and set my higher purpose free. As a result, I changed my business to one with much a deeper meaning: to help people love life. Root to Rise is the system I developed for myself and to support you in creating a life you love. I know it works from my personal experience and testimonials received from my coaching clients. I am thrilled to offer you my signature system to help you with the skills, accountability and mentoring necessary to bring purpose and deep meaning to your life.
Root to Rise will bring you clarity and new tools for winning in all areas of life, including your health, family, romantic relationships, career, and friendships.
3-Steps to Start Your Transformation
Step 1:
Watch our 5 minute video.
Step 2:
There are six forces in life that drive your decision making. Due to childhood, trauma, and/or a deep longing, one of these forces tends to assert control over your life more than the others. Take the quiz to find which of the 6 hidden forces asserts control over your life.
Becoming aware of this force allows you to reflect on past, gain perspective on the present, and empower future decisions that shape the quality of your life.
Step 3:
Meet Chandra Lynn and learn about six hidden forces that influence your key life decisions and ultimately affect the quality of your life. You'll hear case studies of how real people have brought the Root to Rise framework into their lives and how consciously understanding these "forces" can have an immediate, transformational effect.
Interested but still not sure? Watch the Root-to-Rise Intro Video & Review the Curriculum

Schedule a Free Phone Strategy with Coach/Instructor Chandra Lynn.
"Chandra is an excellent trainer and coach to those looking to thrive in their professional and personal lives. Her genuine love for helping clients comes through in her commitment to excellence, delivering results, and creating a transformative experience in each of her programs. Chandra has a unique ability to clearly see the root cause of a block or barrier, then she not only shows her clients what's possible in their lives, but she also empowers them to bring their dreams into reality with her compelling strategies, tools, and resources. Perhaps it's Chandra's extensive experience in strategic marketing that allows her to recognize "the big idea" around what's really happening – and then put language around it – as she's created her coaching programs, but she's seamlessly incorporated her results-focused marketing work into her coaching career making her uniquely effective at what she does."
– Ginny Townsend, Founder of GinnyTownsend.com
"I have benefited greatly from Chandra's advice, loyal support and her generous heart. Chandra is gifted with a compassionate understanding of people. I admire her ability to help so many people in her life. She connects deeply with the needs of her clients and is motivated by her genuine ability to be of service to others. Her warm nature and friendly personality makes it easy to open up to her and discuss what is concerning you. Also, she has the great ability to ask poignant and relevant questions that allows the conversation to go deep into the source of the challenge. I especially appreciate that when she offers suggestions, they are powerful and specific to my specific needs and not a canned list of " the 10 steps to a better…" kind of advice. I believe in her and her mission to serve the holistic health of individuals and to uphold a strong community of support."
– Kristen Dessange, Founder of Affirmation Yoga & Sacred Life Circle
A Note from Coach/Instructor Chandra Lynn, M.B.A.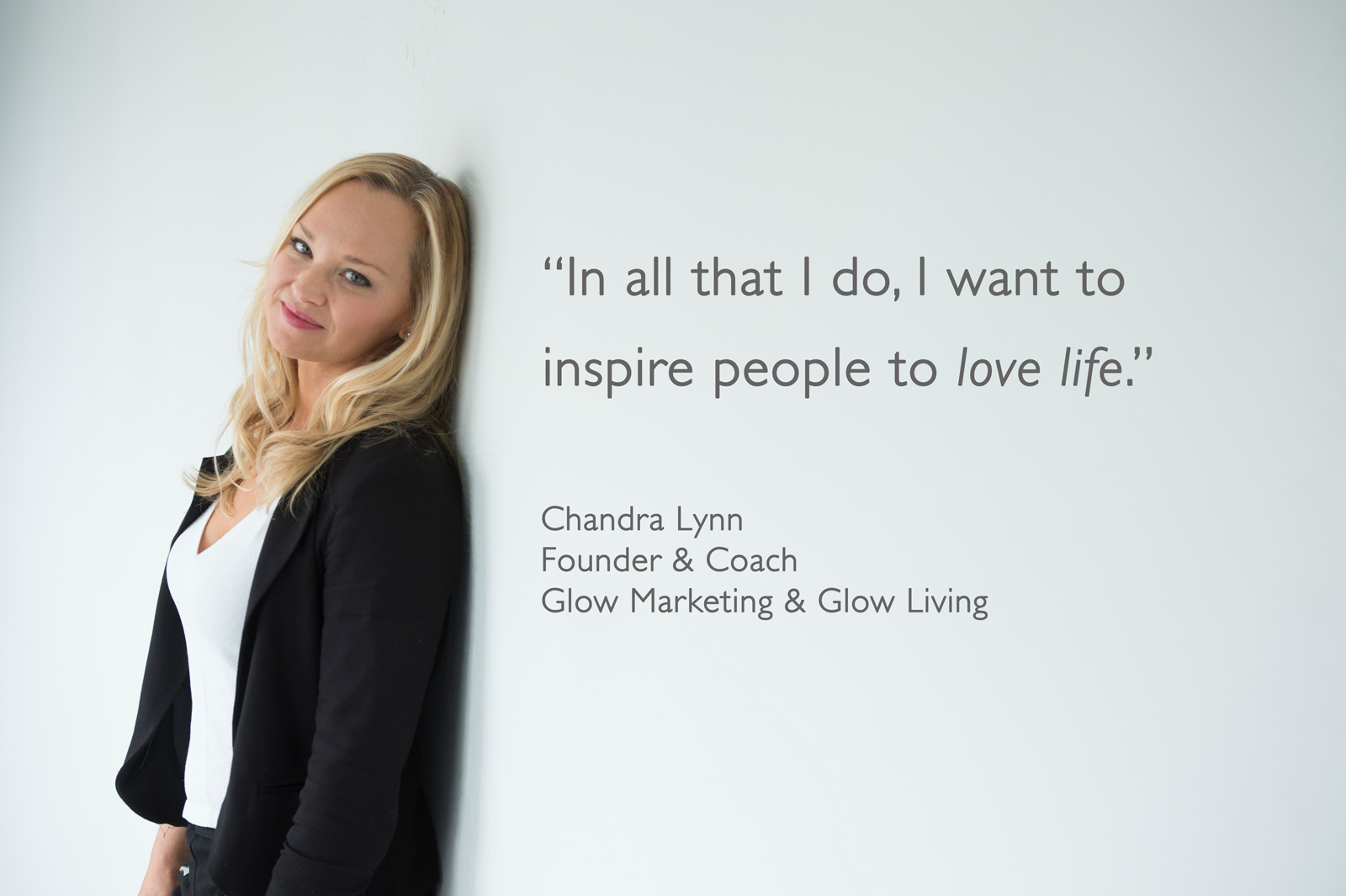 Have you ever heard someone talk about getting "called into service"? Well, I never really understood it until now. Looking back, I realized it happened to me at age 13, but I just ignored it.
It's always been right in front of me. My grandparents were psychologists and I've always loved to help people. Yet, I kept this aspect of myself as a hobby for most of my life. Privately, I've felt that there has been no greater honor for me than having someone open up to me about a problem, and I've always taken great responsibility in giving good, meaningful advice.
I achieved an MBA at age 24, and spent my whole career cultivating an impressive resume and network of contacts in the field of marketing. I love the creativity, variety, and connection that comes from it!
In January of 2000, I launched my own agency, Glow Marketing LLC, and it's still going strong. I work with companies looking to "be remembered" and also specialize in personal branding for solo entrepreneurs who are looking to create brands that are born out of purpose-filled passions.
In 2014, I felt an urge to grow on a more personal and spiritual level and spent two years completing a coaching certificate from The (Tony) Robbins-Madanes Center for Strategic Intervention.
I liked the premise of helping people achieve the most transformative, life-changing results in the shortest amount of time. My training combined with a wealth of other personal development and spiritual influences have proven to be powerful and led me to fully embrace my calling to coach and educated people in significant ways.
I've learned a lot about myself and different ways to live fully and authentically. Now, I'm proud that I have created something connected to the higher purpose that called to me as a teenager.
Something that genuinely makes a difference in people's lives and helps contribute to a happier planet. A legacy…Glow Living and my training program Root-to-Rise.
I believe that if we are authentic to ourselves, follow our hearts, and help each other, then we can live truly happy lives and even raise the positive vibration of the planet.
I am grateful for your time and attention and hope you decide to enroll in Roo-to-Rise and share it with your inner circle so that positive transformation take hold throughout your entire root system! Thank you!